Our Approach
PADI Scuba Instruction
Most Experienced Instructors
Private Scuba Instruction
Flexible Scheduling
We Teach At Your Pace
Small Class Sizes
Private Heated Pool
First Class Customer Service
Lowest Equipment Prices
Lowest Certification Prices
We give our students an experience that they will remember forever. You deserve the very best Scuba Instruction!
Our Story
We understand the economic times are challenging for many people. We have the unique ability to keep our costs low and pass on the savings to you. We offer PADI scuba diving instruction and sell scuba diving equipment at the lowest prices possible while giving you better customer service by offering private / semi-private instruction for less than our competitors group rates.  You don't have to pay more to get the personalized private instruction that your deserve.
We understand that you lead a busy lifestyle and this why we don't have set class schedules. We work solely around your availability. We have Daytime, Evening and Weekend scheduling available to meet your needs no matter if it takes you a week to complete your scuba diving training or several months. We can start your scuba diving training as soon as you sign up. There is no waiting for a class to be scheduled with six or twelve other students.
One of the reasons we are able to offer private style scuba instruction and can keep our costs so low is that we have an on-site private heated pool. We don't need to wait for a group of six or twelve students to get together and have to rent a pool to start your scuba diving instruction. We keep our pool temperature around 89 degrees so you can focus on learning how to scuba dive in our pool and not worry about how cold you are.
We also sell Scuba Diving equipment. We stock everything you need to start scuba diving today. Unlike other dive shops, we sell all Scuba Diving equipment at the lowest prices that our manufacturers will allow us to to sell it for. This is just another way that we pass our savings on to you. We stock a large selection of scuba diving equipment from IST Sports, ScubaMax, H2Odyssey, Intova, DeepBlu Dive Computers, Sea Pearls, Innovative Scuba Concepts, Mobby's Drysuits, XS Scuba and Global Manufacturing. We can also get most other manufacturers scuba equipment. Just let us know what you are looking for and we will give you a price quote. Please see our Scuba Diving Equipment Page.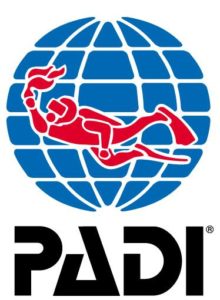 Why You Should Choose PADI Instruction
PADI is the world's leading scuba diving training organization.
With more than forty years experience, over 136,000 PADI Professionals and more than 6200 dive shops and resorts worldwide, PADI training materials and services let you experience scuba diving from nearly anywhere.
PADI Divers carry the most respected and sought after scuba credentials in the world. No matter where you choose to dive, your PADI scuba certification card will be recognized and accepted. In fact, on most scuba diving adventures you'll be surrounded by other PADI Divers who made the same certification choice you did – to train with the world's largest and most respected scuba diving training organization.
With more than 133,500 PADI Professionals and more than 6,000 PADI Dive Shops and Resorts operating in more than 180 countries and territories, you will likely find a PADI Scuba Instructor who can speak your language and offer you a comfortable learning experience. To serve the needs of divers worldwide, translations of PADI materials are available in at least 26 languages.
All PADI programs, entry-level through scuba instructor training, fall under strict educational standards monitored for worldwide consistency and quality. PADI takes a proactive approach to quality management and randomly surveys PADI Divers to confirm that their courses met PADI's high standards as well as the divers' expectations. No other diver training organization works to maintain this level of professional reliability and integrity. PADI's commitment to a quality assurance process helps continually improve customer satisfaction.
Just as scuba divers must earn PADI certifications, PADI Scuba Instructors must complete a development program that sets the industry standard for scuba instructor training. Each new PADI Scuba Instructor demonstrates a thorough knowledge of the PADI System and the ability to conduct PADI programs by meeting specific criteria. Before earning the PADI Scuba Instructor rating, all candidates are evaluated by a select group of PADI Instructor Examiners. This ensures that the evaluation process is objective, fair and consistent worldwide. This is just one of the ways PADI training stands above others in the industry.
James Wittlieff
Master Scuba Diver Trainer
Scuba diving since 1963
Instructor since 1975
Certified over 1,000 students
Masters Degree in Teaching
Most experienced Instructor in the Milwaukee Area
Teaches 19 different Specialties
CPR & Emergency First Responder Instructor
Has several thousand Logged Dives
Spends hundreds hours underwater each year
Andrew Grove
Divemaster / USCG Captain
Scuba Diving Since 2004
Divemaster Since 2010
USCG Master 25 Ton Charter Captain Since 2014
Has over 400 logged dives
16 specialty certifications
Webmaster